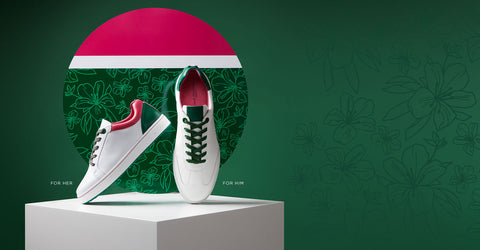 LIMITED EDITION
LADY SKYE & SMITH AZALEA
To mark the year's first major, we've created a stunning special edition shoe for both men and women.
---
Spring, for many, is finally here; a time when golf shakes off its winter coat and the most prestigious of tournaments takes centre stage across the globe.
Introducing the Smith and Lady Skye Azalea
FOR HIM
SMITH AZALEA
---
Our Smith Azalea and Lady Skye Azalea sneakers echo the vibrant splashes of colour the famous plant brings to a storied golf course in full bloom.
For the men, the Smith Azalea's pink is a subtle addition to the inner sole, allowing the iconic green laces to take centre stage.
SHOP SMITH
FOR HER
LADY SKYE AZALEA
---
For the women, the colour flows out to the comfort-padded ankle collar of the Lady Skye Azalea, with pink and green lacing providing a masterful touch.
SHOP LADY SKYE